Trumpeter Avishai Cohen, as part of the all-star SFJAZZ Collective, plays the Dakota Jazz Club on March 19
By MORDECAI SPECKTOR
Avishai Cohen is feeling under the weather. During a recent telephone interview with the AJW from his home in Tel Aviv, he sounds a little groggy, and he apologizes for his diminished physical state.
Hopefully, Cohen, who has emerged as a dazzling trumpeter on the jazz scene, will recuperate in time for the spring tour of the SFJAZZ Collective, an all-star octet, which includes a stop at the Dakota Jazz Club.
Informed that he will be playing with the Collective on March 19 in Minneapolis, the incredibly busy musician replies, "Okay, I believe you."
Each year, since 2004, the elite jazz ensemble has performed the works of a musical giant: Ornette Coleman, John Coltrane, Herbie Hancock, Thelonious Monk, Wayne Shorter, McCoy Tyner, Horace Silver and Stevie Wonder.
In its 2013 tour, the SFJAZZ Collective reimagines compositions by legendary pianist and composer Chick Corea (who returns to the Dakota on April 1, in a duo with banjoist Béla Fleck). Each member of the ensemble selects a tune to arrange, and also contributes an original number, which adds up to a 16-song repertoire that the band has to master in a two-week span of rehearsals.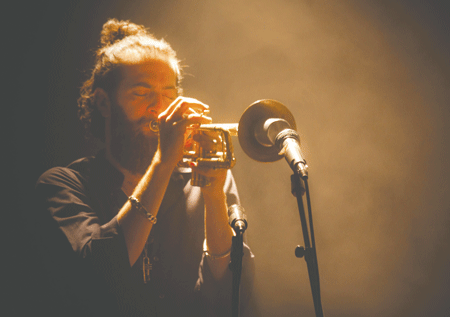 Cohen, who has been with the group since 2010, chose to arrange the spritely bop-ish tune "Matrix," which Corea first recorded on his 1968 album Now He Sings, Now He Sobs. Last year, he arranged Stevie Wonder's homage to the great Duke Ellington, "Sir Duke."
I have seen Cohen play on two occasions in recent years, when he backed up singer and songwriter Keren Ann, in shows at the Cedar Cultural Center in Minneapolis (6-10-11 AJW). Following the spring SFJAZZ Collective tour, the 34-year-old trumpet ace hits the road in China, with Keren Ann. They will perform five shows as a trio, with Yonatan Avishai, a pianist who also plays with Cohen in the quartet Third World Love. Bassist Omer Avital and drummer Daniel Freedman round out the lineup of Third World Love, which gigged recently in Italy. "It's an amazing band, together 12 years," adds Cohen.
In the SFJAZZ Collective context, music lovers will get a full dose of Cohen. Regarding his role accompanying Keren Ann, Randall Kline, the founder and executive/artistic director of the SFJAZZ Center, the sponsor of the Collective, says, "That's a very muted version of Avishai. That's minimalist Avishai."
Cohen's trumpet playing with the SFJAZZ Collective "is not minimalist," explains Kline, who describes himself as "a huge Avishai fan."
During a phone chat with the AJW last week, Kline said that he lobbied hard to bring Cohen into the group. Nicholas Payton first held the group's trumpet chair, for three years; he was succeeded by Dave Douglas, another stellar player who was with the Collective for three years, "and now Avishai's been there for another three," Kline recalls.
As its name suggests, the group operates on a democratic and collective basis, as far as making decisions about repertoire and personnel. However, Kline is "kind of the deal-breaking vote, because I act as sort of the executive producer of the group," he remarks with a laugh.
Kline says that he "was intrigued by the whole Israeli scene in New York," particularly at Smalls Jazz Club in Greenwich Village, where many Israeli musicians were "active in the scene that wasn't identified as Israeli. It was just part of the jazz scene, and there just happened to be a lot of Israeli musicians."
Before he became familiar with Avishai Cohen's music, Kline recalls meeting with Ben Ratliff, who writes about jazz for the New York Times. They went to a club called the Fat Cat. It was a record release gig for Cohen's 2007 album After the Big Rain. Cohen played with West African guitarist and singer Lionel Loueke, pianist Jason Lindner and the Avital-Freedman rhythm section, as Kline remembers the evening.
"It was just a great gig… and he was just great," Kline says, with obvious enthusiasm still about Cohen's playing that night. "I thought, if ever an opening appears, he brings something very interesting to the Collective, because he's a contemporary composer and he can play the trumpet as well as anyone, he's just an incredible musician."
The SFJAZZ Collective "is made up of composers and instrumentalists, and to find the combination of great composers and great instrumentalists is what we're seeking, and so he was there. And the Israeli part became sort of a bonus, because the band is very international."
Kline mentions that tenor saxophonist David Sánchez and alto saxophonist Miguel Zenón are from Puerto Rico, bassist Matt Penman is from New Zealand, and pianist Edward Simon is from Venezuela. "So there's a lot of world culture in the band," notes Kline.
The other Collective members are Robin Eubanks, trombone; Stefon Harris, vibraphone and marimba; and Obed Calvaire, drums.
Cohen has settled his family, his wife and two young children, in Tel Aviv; but he spends about half of his time in New York and elsewhere on the road. His family of birth was sort of a musical conservatory. AJW readers likely know about his older sister, Anat Cohen, the celebrated clarinetist who has played the Dakota three times over the past three years (11-9-12 AJW). And the eldest sibling, Yuval Cohen, who plays soprano sax, rounds out the family band known as the 3 Cohens, which has recorded three albums. The Tel Aviv natives' most recent record, Family (Anzic Records), which came out in 2011, featured legendary jazz vocalist Jon Hendricks, and met with resounding critical acclaim. The siblings reunited Feb. 15 for a sold-out show at Carnegie Hall.
(At some point in this story, it should be mentioned that there is another jazz star named Avishai Cohen, an extraordinary bassist who has played the Twin Cities with Chick Corea and leading his own groups.)
Since picking up the trumpet at the age of eight, Cohen has developed a deep appreciation for the jazz tradition and sees himself as a link in the lineage of jazz horn players. Asked about his trumpet influences, he mentions many of the greats: "Miles Davis, of course, Lee Morgan, Dizzy [Gillespie], Don Cherry, Thad Jones, Art Farmer, Louis Armstrong, of course, Kenny Dorham."
Again, I haven't seen Cohen play live in a jazz context, so I sought out an expert to say something about the quality of his playing.
"Oh man, Avishai, he's a blessed trumpet player," says Eric Harland, an esteemed jazz drummer who has played with some of the best, including the 3 Cohens, on their 2007 album Braid, and recently with the SFJAZZ Collective. "I mean, he has a great sound, great technique; but the thing I like about Avishai the most is that he's able to be really soulful — he's able to find that vibe, he's able to find that zone, and in his own way. So that's something that's very special about his playing. You know, most people are either just soulful or they get too much into the technique, and he seems to have a nice balance between the two."
Backstage at the Dakota Jazz Club between sets on Sunday night, where Harland is on drums with a quartet led by the legendary saxophonist and flautist Charles Lloyd, the amiable drummer is happy to talk about his friend and what he brings to the SFJAZZ Collective.
"He brought great writing, and he just brought his charm, his character," Harland says. "He's such a charming guy, and just such a fun guy to be around. You know, you're on the road and he has the best jokes, and him and Miguel [Zenón], they get into whistle contests, 'cause he can whistle really well. It's fun. He's just an all-around, really good-hearted guy, very witty, very talented. A great person."
The year 2013 will be a busy one for Cohen, who mentioned his "new projects," including quartet performances with Loueke, the guitarist and singer from Benin, this summer. He also has played recently in Israel with some compatriots, in a group comprised of two drummers, two guitarists, and a trumpet player, of course. Then there's yet another group, a trio led by Cohen called Triveni, which has released two albums. Triveni — with Omer Avital on bass and drummer Iago Fernandez (Nasheet Waits played drums on the albums) — has a slate of May gigs in Spain, France, Italy and Germany.
"And 3 Cohens, Keren Ann, Third World Love, the Collective, many things," comments Cohen, about his packed schedule in the coming months.
Toward the end of our half-hour phone conversation, I circle back to the remarkable number of Israelis establishing themselves in the great American jazz idiom. How did this happen? Something in the water from Lake Kinneret?
"I would say, the swing is in the hummus," replies Cohen. "I'm joking. Everyone always asks that question; I don't know what it is. Israel is a very intense place, it's very special, with the good and the bad, and the craziness, and that life-grabbing thing… a lot of freedom, with a lot of Eastern European harmonies. Melodies are very clear here… a big sense of melody in this place, in the history of Israeli music."
***
The SFJAZZ Collective plays the music of Chick Corea and original compositions in two shows, 7 and 9 p.m. Tuesday, March 19 at the Dakota Jazz Club and Restaurant, 1010 Nicollet Ave., downtown Minneapolis. For tickets, call 612-332-1010, or go to: dakotacooks.com.
(American Jewish World, 3.15.13)