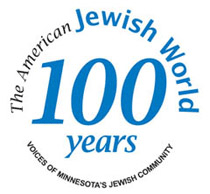 The American Jewish World
3249 Hennepin Ave., Suite 245
Minneapolis, MN 55408
612-824-0034
Fax: 612-823-0753
news@ajwnews.com
ajwnews.com
Publisher and Editor: Mordecai Specktor, editor@ajwnews.com
Assistant Editor: Elana Warren, community@ajwnews.com
The AJW is a newspaper serving the Minnesota Jewish community, published on the first Friday of the month. It has been published since 1912 and is available by subscription ($45 for one year, $80 for two years). Like the Jewish World on Facebook: @AmericaJewishWorld, and follow AJW on Twitter and Instagram: @MNJewishWorld.
Keren Or — A creative arts forum for Jewish teens
kerenorcontest.org
Keren Or (Ray of Light), celebrating its 18th year, is an annual creative arts contest for Jewish youth. Minnesota Jewish teenagers in grades 7-12 are invited to submit original poetry, creative prose and photographs. The deadline for submissions is 5 p.m. Friday, Feb. 18, 2022. Feb. 12, 2016. Winning entries are published in a special supplement to the American Jewish World and on the Keren Or website.
TC Jewfolk
Jewfolk Media
Barry Family Campus
4330 Cedar Lake Rd. S.
St. Louis Park, MN 55416
612-930-1818
tcjewfolk.com
Executive Director: Libby Parker, libby@tcjewfolk.com
Editor: Lonny Goldsmith, lonny@tcjewfolk.com.
TC Jewfolk is a multi-author, daily online blog and community resource website serving the Twin Cities Jewish community. Founded in 2009, TC Jewfolk is a nonprofit entrepreneurial start-up celebrating "a thousand ways to be Jewish."
(For corrections or updates, email community@ajwnews.com)