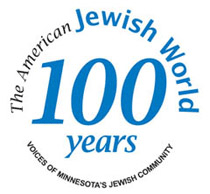 The American Jewish World
3249 Hennepin Ave., Suite 245
Minneapolis, MN 55408
612-824-0030
Fax: 612-823-0753
news [at] ajwnews [dot] com
ajwnews.com
Publisher and Editor: Mordecai Specktor, editor [at] ajwnews [dot] com
Assistant Editor: Adrian Glass-Moore, community [at] ajwnews [dot] com
The AJW is a biweekly newspaper serving the Minnesota Jewish community. It has been published since 1912, and is available by subscription ($45 for one year, $80 for two years).
Celebration Magazine
400 Marie Ave. W.
West St. Paul, MN 55118
Coordinator: Rabbi Gershon Grossbaum, 651-690-4867
Minnesota's Jewish holiday guide is published three times a year and distributed to more than 10,000 homes.
Keren Or — A creative arts forum for Jewish teens
952-381-3449
rimon@sabesjcc.org
Contact: David Jordan Harris
Keren Or (Ray of Light), celebrating its 12th year, is an annual creative arts forum for Jewish teenagers from Minnesota in grades 7 through 12, who are invited to contribute poetry, creative prose or photography. First-place winners in each category receive $100, and second- and third-place winners receive $50 each. Winning entries are published in a special supplement to the American Jewish World and on the Keren Or Web site. The winners and their families are invited to an awards reception at the close of the contest. The contest is announced in November and closes on Feb. 12, 2016. For contest rules and to see previous winning entries, visit: kerenorcontest.org or: rimon@sabesjcc.org.
(For corrections or updates, email community@ajwnews.com)